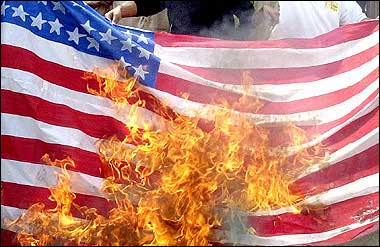 Hundreds of protesters rallied in two Pakistani cities Friday, burning American flags and calling for the hanging of a US pastor who had planned to burn copies of the Koran, witnesses said.
An AFP reporter in Multan said about 600 demonstrators - including clerics, political party workers and activists - held four protests in various parts of the central city of nearly four million people.
Despite the Florida-based American church saying on Friday it had decided against burning hundreds of Korans, the Pakistani protests went ahead to make it clear such acts would not be tolerated in future, organisers said.
Protesters carried placards reading "Death to America" and "We will lay down our lives and will not allow desecration of the Holy Koran".
"Muslims believe in the sanctity of all holy books and they would not let anyone stage this drama to desecrate the Holy Koran," cleric Mufti Hidayatullah Pasroori said in an address to protesters.
"We have heard that they have postponed the plans to burn the Holy Koran, but it is not enough. We will continue to raise our voice, so that it never happens again," Pasroori said.
At Multan's Gulshan market, political activists from the Pakistan Muslim League (N) party of former prime minster Nawaz Sharif joined local traders in setting an American flag on fire.
In southern Karachi, Pakistan's largest city, about 300 people from Islamist political parties Jamaat-e-Islami and Jamiat Ulema-e-Pakistan held three rallies with placards that said the pastor responsible for the plan should be hanged.
"Hang the pastor" and "Death to America" read the banners at the rally that later dispersed peacefully, an AFP reporter said.
Pakistani President Asif Ali Zardari on Thursday condemned the plan to torch the Koran as "despicable."
In a statement Thursday, Zardari said "anyone who even thought of such a despicable act must be suffering from a diseased mind and a sickly soul".
http://news.asiaone.com/News/Latest%2BNews/Asia/Story/A1Story20100910-236630.html